Christchurch is the gateway to New Zealand's South Island and is well known for its spectacular scenery, food scene, and art scene.
The city was hit by a major earthquake in 2011, reaching a magnitude of 6.2. It caused widespread devastation, but it also became embedded in the city's charm.
The city recovered from the earthquake in unmeasurable ways, and many of the top attractions and things to do in Christchurch have stemmed from this notorious point in history.
While most people tend to use Christchurch as a starting point for exploring South Island New Zealand, we urge you to stop and explore this city a little more.
To help you decide what to do in Christchurch, Bethaney Davies, a local from Christchurch, has shared with us her insider tips on the best places to see, eat, stay, drink, and explore.
Is Christchurch Worth Visiting?
Christchurch is definitely worth visiting; it boasts stunning natural landscapes with its gorgeous hills and breathtaking sunrise views, as well as has a vibrant restaurant culture.
Not only is the food good, but it's surrounded by a wine district, making it a great destination for food and wine enthusiasts.
Christchurch also boasts a rich cultural scene, with revitalizing post-quake art pieces that emit a sense of hope.
Whether you're interested in street art or exploring impressive attractions, Christchurch has something to offer any traveler.
Best Things to Do in Christchurch
Whether you love the outdoors or dining on sumptuous cuisine, don't miss these unmissable attractions in Christchurch.
1. Go Punting on Avon River
Punting on the Avon River is one of the most unique things to do in Christchurch. The city was modelled after the garden cities of England, like Oxford and Cambridge, where punting is an iconic activity.
Despite losing almost every heritage building in the earthquake, punting along the Avon was one of those activities you could do before the city was devastated, and is one of the few ways where you can still get a feel for this quaint English vibe.
2. Walk Around Hagley Park & Botanic Gardens
Christchurch is known as New Zealand's "Garden City" for a reason, with Hagley Park being in the centre of this reason.
A great past time is to stretch your legs and get some fresh air after a long flight with a walk around Hagley Park, a public park in the city center, and the Christchurch Botanic Gardens.
Even in Winter, there's plenty of greenery. It has a jogging and bike path that runs around the length of the park, for those who like to get active on their vacation.
3. See Native Birds at Willowbank Wildlife Reserve
If you're travelling with kids, head to Willowbank Wildlife Reserve. From here, you can view birds native to New Zealand, including the kiwi, tuatara, and brown teal, as well as the native Duvaucel's gecko.
The park is not only a place where you can see this wildlife up close but it's also dedicated to their conservation.
You can even enjoy a Maori cultural performance and hangi (a traditional dinner cooked underground).
4. Visit Christchurch's Art Galleries
Christchurch's art galleries showcase the vibrant and diverse art scene in the city, with a wide array of places that showcase artistic expressions, from traditional to avant-garde.
The most famous gallery in the city is Christchurch Art Gallery Te Puna o Waiwhetū, which houses an impressive collection of art by New Zealander artists.
Each piece of art, whether painting or photography, tells the story of Christchurch from the past to present.
5. Dine at Little High Eatery
Little High Eatery is one of the most popular places to eat in the city and boast a huge selection of international cuisines.
From mouthwatering burgers to delicious baos, there is a wide range of options to choose from at this bustling food court in the city.
You can also find live entertainment and events here such as movie nights and acoustic sessions, as well as happy hour deals.
6. Take the Kids to Christchurch Adventure Park
If you're looking for things to do in Christchurch with kids, head to Christchurch Adventure Park.
Nestled in the picturesque Port Hills district, it's a perfect destination for kids of all ages.
From thrilling ziplines that offer breathtaking views to mountain biking trails that will get their adrenaline pumping, there's no shortage of excitement here.
The park's commitment to social and environmental sustainability sets a great example for young kids, teaching them the importance of caring for nature.
Top tip: While we are not fans of playgrounds as a way to entertain our kids on our travels, we would make an exception for Margaret Mahy Playground (Tākaro ā Poi) which has climbing walls, splash zones, and plenty of places to run around in, if you need more ideas for activities for kids.
7. Visit Christchurch Farmers Market
If you happen to be in Christchurch on a weekend, don't miss the Christchurch Farmers Market. This produce and craft market takes place on Saturday mornings from 9.00am – 1.00pm, and is a lively place.
It's the best place to pick up local produce from nearby farmers and buy locally made artisans.
8. Ride the Christchurch Gondola
Ride the Christchurch cable car from up Mount Cavendish from Heathcote Valley.
The gondola takes about 15 minutes to reach the summit and provides unrivaled views of Lyttelton Harbour, the city and the mountain.
9. Dine at Christchurch Tramway Restaurant
For a unique experience, consider dining on an operational tram! The Christchurch Tramway Restaurant is the only dining tramcar in the country and serves a seasonal, changing menu.
As you dine on gourmet cuisine, you can watch the scenes of Christchurch pass by from your window. It's certainly one of the most unique attractions in Christchurch.
10. Take the Arthur's Pass Tranzalpine Train to Greymouth
When it's time to leave Christchurch for a day trip or longer exploration, be sure to hop onto the Tranzalpine Train, which connects Christchurch to the Southern Alps and beyond.
The scenic journey spans for 223 kilometres (139 miles) and takes under 5 hours to reach Greymouth on the other end.
The railway passes through what is known as The Great Divide, connecting two coasts on the South Island.
As you travel, you'll witness incredible mountain vistas, with glistening glaciers and tranquil glacier lakes.
11. Hike to Godley Head (Awaroa)
For those who prefer to get outdoors on their vacation, one of the best walking trails near Christchurch is the hike to Godley Head, also known as Cachalot Head by the former French settlers.
This is the most prominent headland in the city and is located at Lyttelton Harbour, and offers beautiful coastal views of the harbour and city beyond.
The loop hike is an easy hike, that any family with kids can do. It's 7 km in total and takes around 3 hours to complete.
12. Take a Trip to Quail Island
Just a short ferry ride out of Lyttelton Harbour is Quail Island, an uninhabited island that is now a recreation reserve.
Even though it's the largest island in the Canterbury region, it's possible to see it all within a day trip.
The island has several walking tracks that are easy and suitable for families with children.
You can also swim from the beaches, visit historic sites such as a shipwreck, and visit the bird watching barricade to see some native birds.
You can book your ferry ticket through Black Cat Cruises.
13. Take a Boat Trip to Whales
Wildlife lovers should not miss a boat trip from Christchurch, which takes you out into the Pacific Ocean to look for migrating whales, such as humpback whales, sperm whales and orcase.
It's also possible to see dolphins and fur seals in the waters, too!
If you're visiting in the months of May to October, you'll have a good chance of seeing humpacks, southern right whales, and pilot whales. From November until March, you might see migrating orca whales and blue whales.
As well as seeing whales, you also get to see the snowy peaks of the Kaikoura Ranges and the North Canterbury countryside.
It's one of the best experiences for nature lovers!
14. Walk Along New Brighton Pier
One of the biggest icons of Christchurch is New Brighton Pier, so named because it was rebuilt in 1997. The first pier was made of wood and stood in the same spot since 1894, but was demolished in the mid-60s.
The pier doesn't have much on it, but it's a great spot to stroll along and watch the sun set.
15. Go Jet Boating on Waimakariri River
If you're looking for something to make your heart race, then jet boating will certainly do it!
The Hanmer Springs Jet Boat Adventure Tour is one hour of adrenaline pumping action, taking you on a route through the Waiau Gorge to see the beautiful mountains and forests.
Not only do you get to view incredible views, but you will travel at a whopping 85km per hour, and experience how the famous Hamilton jet spins!
16. Watch a Play at Court Theatre
Nestled inside an old grain shed is the Court Theatre, which hosts live performances written and produced by local New Zealanders.
It's the ideal place to watch a comedy show or drama performance which has been written, rehearsed and performed in the theatre by its own theatre company.
The Court also has what it called 'The Court Jesters', or hold the record for the longest-running late-night comedy show in New Zealand, and have been performing since 1990.
If you're looking for things to do in Christchurch at night, The Court has something for everyone.
17. Admire the Town's Remaining Historic Architecture
Before the earthquake, Christchurch's architecture resembled Georgian architecture, similar to what you may find in the countryside in England.
Much of that architecture still stands in central Christchurch, such as the stunning Riccarton House, a grand 19th century home built by early colonialists, the Deans family. It was built in a Victorian and Edwardian style, and while damaged in the earthquake, has been lovingly restored.
The Canterbury Museum is another historic building that has retained its charm. Nestled inside a former cathedral, the museum hosts a collection of Maori and Antarctic artifacts.
Some other historic buildings that are largely intact are The Arts Centre, the houses on Worcester Boulevard, and the old Victoria Clock Tower.
18. Have Coffee at Switch Espresso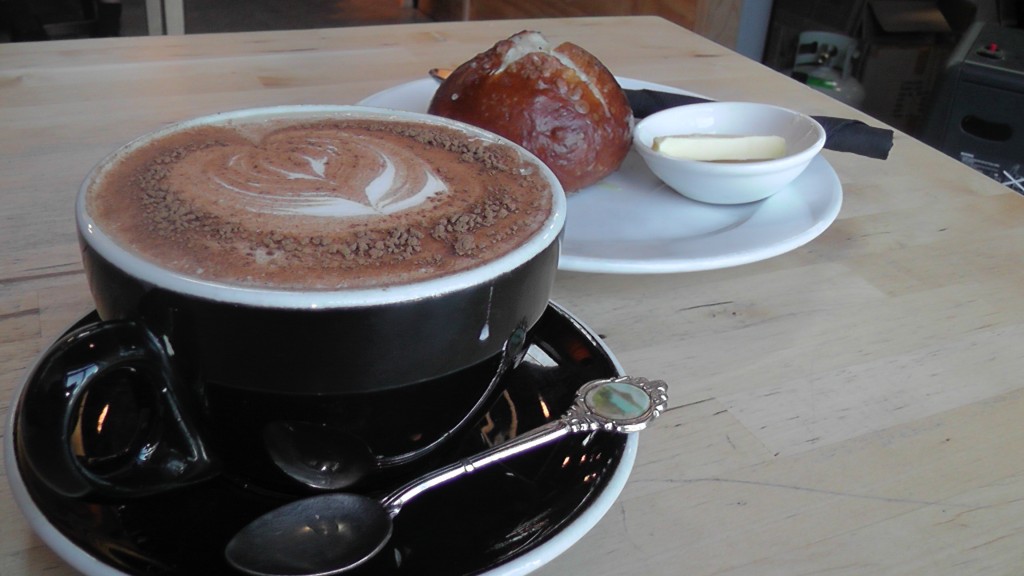 Christchurch is a great destination for food and coffee. Those looking for a great coffee in the city try Christchurch Coffee Roasters, Switch Espresso, on Madras Street.
They serve great café-style cabinet food and breakfasts in an urban, warehouse environment.
They even grow their own coffee beans on site! Free WiFi is available.
One of the best eateries to check out is the Red Rock Cafe, which is famous for its cakes!
19. Have a Cocktail at The Monday Room
If you're after a swish cocktail and delicious yakitori and tapas, head to The Monday Room. It's about as close to a central city bar as you'll get these days.
They're also open for coffee and lunch during the day. Prices are pretty reasonable. You'll spend about $20 on a cocktail, but they are very good!
20. Explore the Markets and Shopping
Christchurch has a small shopping scene but it's packed with everything you need. Head to Westfield Riccarton for all your high street brands.
If you're stocking up for outdoor adventures in the South Island, check out Bivouac and Kathmandu for Merino wool and fleece gear, which is located nearby this mall.
Some other great malls are Southcity Shopping Center and Northlands Shopping Center.
21. Explore the city's suburbs
A lot has changed in Christchurch since the February 2011 earthquake, so any guidebook is going to be out of date.
My number one insiders tip for travellers would be to explore the city's suburbs. Since the central city is mostly out of commission cafés, bars and restaurants have sprung up all over the suburbs.
Check out areas like Addington and Ferrymead, which are more down-to-earth neighborhoods. Addington has a lively entertainment scene, whereas Ferrymead is known for its tranquil nature that wraps around its borders.
If possible, try to stay with a local, either through Couchsurfing or VRBO, for the best experience. Be sure to ask them about their "earthquake" story – everyone has one!
22. Take a Day Trip from Christchurch
Locals love to spend a day or weekend out of the city to rest and recharge. One of the best day trips from Christchurch is to visit Akaroa, a wonderful little settlement on the Banks Peninsula offering up beautiful harbour views, wineries and restaurants.
Alternatively, head to Hanmer Springs for hiking and a soak in the hot pools of the thermal mineral baths.
Being the gateway to the South Island, Christchurch is within easy reach of the Canterbury Plains, Lyttelton Harbour, and the Southern Alps.
Getting To and Around Christchurch
Christchurch is the best hub for travel in the South Island of New Zealand. Many travellers choose to start their South Island roadtrip by picking up a car or motorhome in Christchurch. Look into Apex and Jucy rentals for the best deals.
You'll find direct international flights into Christchurch from Melbourne, Sydney, Brisbane and the Gold Coast in Australia, Nadi in Fiji and Singapore's Changi Airport.
For all other international destinations you'll need to transfer through Auckland – luckily that's pretty easy. Air New Zealand and Jetstar offer flights from within New Zealand. For cheap flights on Air New Zealand, look into Grabaseat.co.nz.
Jetstar posts cheap flights on their website every Friday afternoon. It's a good idea to sign up to Grabaseat and Jetstar on Facebook for a heads up on the best deals.
When it comes to getting around Christchurch, while there is a bus system, the main bus exchange in the city is out of action. It takes a long time to get around via bus. You're probably best to hire a car in Christchurch.
If you are driving, be aware that many streets are still partially closed, especially in the city centre.
As in the rest of New Zealand, taxis are expensive. It'll cost you at $15-25 for trips around the city, more to the outer suburbs. You're looking at around $30-35 from the airport to the city.
Book a Super Shuttle or jump on the airport bus instead.
Best Time to Visit Christchurch
The best time to visit Christchurch is in the winter, which is spectacular. It doesn't snow (often) instead we get fabulously crisp, clear Winter's days.
Nights may dip below zero but daytime temperatures are around 10 degrees Celsius. Winter provides the most spectacular sunsets over the city and mountains. Get up into the hills for the best view!
Spring is also a lovely time to visit Christchurch. The city is known as New Zealand's "Garden City" after all and there are daffodils blooming everywhere.
During the summer, temperatures get warm but not overly hot and are often accompanied by blustery Nor'Wester winds. Autumn can be a bit damp but it's certainly no reason to avoid the city. In short, you can visit Christchurch anytime of the year.
Final Thoughts on Things to Do in Christchurch
I love Christchurch because it's easy. It's a great place to regroup after spending time travelling or to sort yourself out before a trip around New Zealand.
It's a small city with big city amenities. You're a stone throw from some fantastically scenic parts of the country.
Quake City also has plenty of great cafés – coffee and food are just as good here as anywhere else in the world.
There are plenty of opportunities to enjoy the outdoors, whether it's the park, beach or hills. What more could you ask for?
Bio: Bethaney travels the world with her husband Lee and toddler Reuben in tow. She chronicles their adventures and shares tips for travel and living a location independent lifestyle on her blog Flashpacker Family. You can also find her on Twitter and Facebook.
More New Zealand Travel Tips
Need more inspiration for things to do and places to see in New Zealand? Here are some other helpful guides…
Can you suggest things to do in Christchurch? Share in the comments.